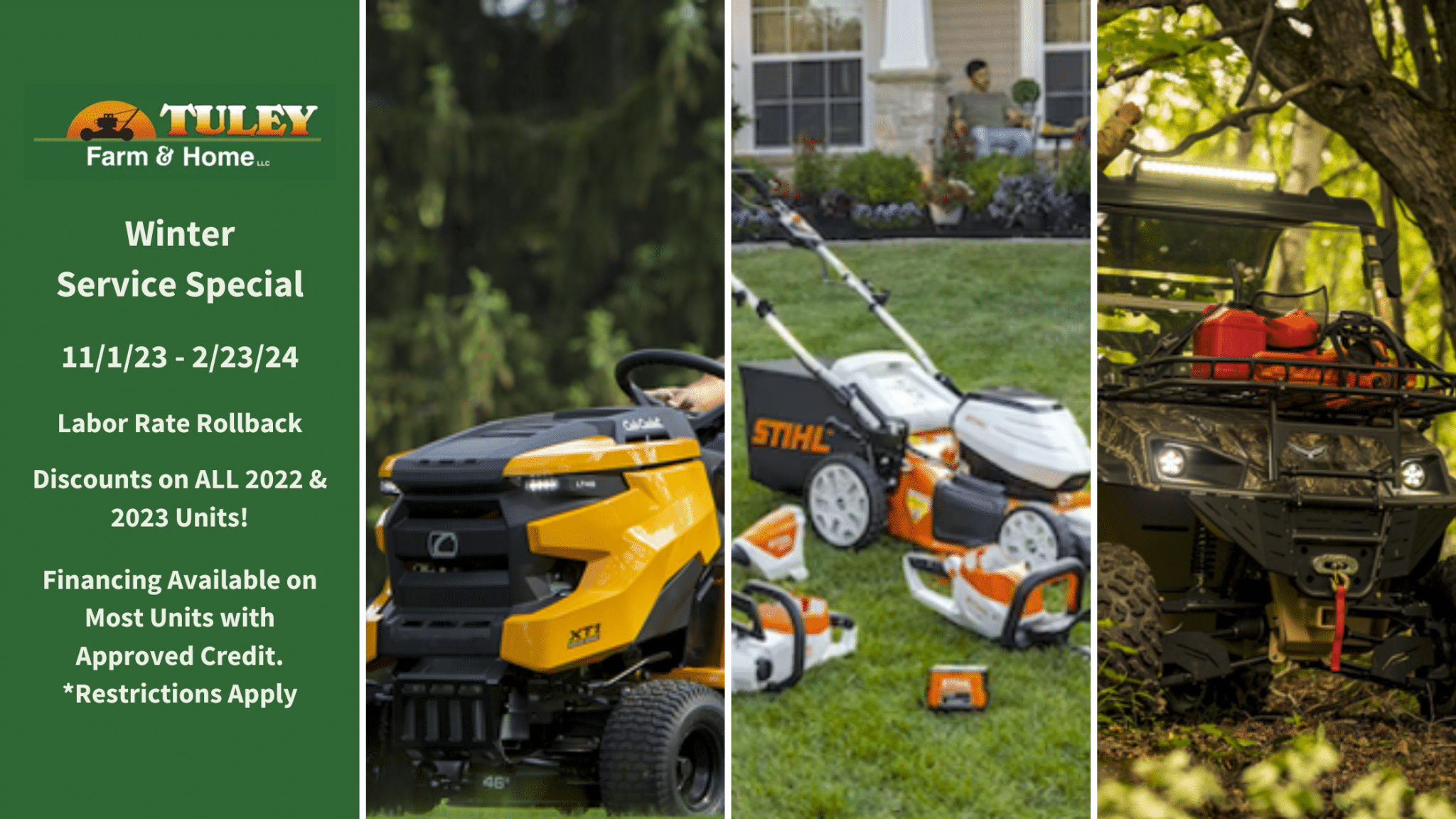 As the chilly winter season approaches, Tuley Farm & Home in Dexter, MO, is thrilled to introduce our Winter Service Specials from November 1, 2023, to February 23, 2024. Whether you need your equipment repaired or are looking for unbeatable deals on the latest units, we've got you covered.
Repairs and Maintenance
Is your equipment in need of a little TLC before the winter chill sets in? Whether it's your trusty snowblower, utility vehicle, or anything in between, our skilled technicians are here to provide expert repair and maintenance services. With our Winter Service Special, you'll benefit from a labor rate rollback to just $85 per billed hour. That's our way of helping you ensure your equipment performs at its best when you need it the most. And to sweeten the deal, we're offering a generous 15% discount on all parts listed on your repair order. We're committed to keeping your equipment running smoothly without breaking the bank.
Equipment Sales
If you're in the market for new equipment to conquer the winter, Tuley Farm & Home is the place to be. Our Winter Service Special extends to our sales department, where you'll find unbeatable deals on all our 2022 and 2023 units. These units are available at Cash and Check pricing, making them more accessible than ever. Just keep in mind that for Credit Card transactions, a modest 3% charge will be added to the total. To further assist our customers, we also offer sales financing options on most units, subject to approved credit.
Flexible Financing
We understand that investing in new equipment can be a significant decision. To make your purchase as convenient as possible, we're pleased to introduce our sales financing options. Starting from November 1, 2023, a small 5% charge will apply to all unit sales financed using TD Banks or Sheffield Financials on 0% APR plans for 24, 36, or 48 months. For those seeking a longer 0% APR plan over 60 months (where available), there will be a slightly higher 8% charge. Keep in mind that the finance fee charged by the loan companies has been adjusted to $150 from $125, offering you more flexibility and affordability in your equipment purchase.
At Tuley Farm & Home, we're dedicated to helping you make the most of the winter season. With our Winter Service Special, you can confidently tackle the cold with well-maintained equipment and access to the latest tools and machines. Don't let the winter weather catch you off guard – take advantage of these incredible offers while they last!
Visit Tuley Farm & Home Today!
What Our Customers Are Saying